Surgically Accurate Identification
MedicaLine Labels and Tools has been scientifically developed to suit the demanding environments of hospitals, laboratories and pharmacies. MedicaLine Labels and Tools allows the printing and application of labels to medical and pharmaceutical products easily and in a highly professional way.
MedicaLine Labels help you comply with legal sterilisation requirements. METO autoclave labels double-check the sterilisation process and are ISEGA certified.
Medical Sterilisation
A special indicator ink changes to a different color, on completion of the sterilisation process to today's standards.
Medical Service
We provide labeling for dosage information to better serve your customers, as well as price, dating, and promotion labels to suit your needs.
MedicaLine Labeling Tool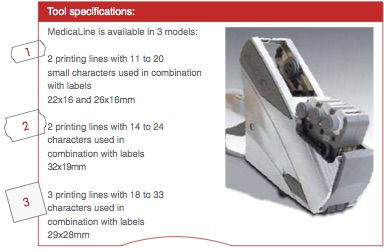 Patented UPD technology for consistent print quality
Lightweight
Ergonomic design
Easy refill
Closed housing to protect mechanism from environmental influences
Smooth and solid label transport
Durable and reliable
Character set-up for a variety of medical applications
Tailor-made in your company's corporate style on request
CE certified
Labels